VOLER Blue Short Sleeve Jersey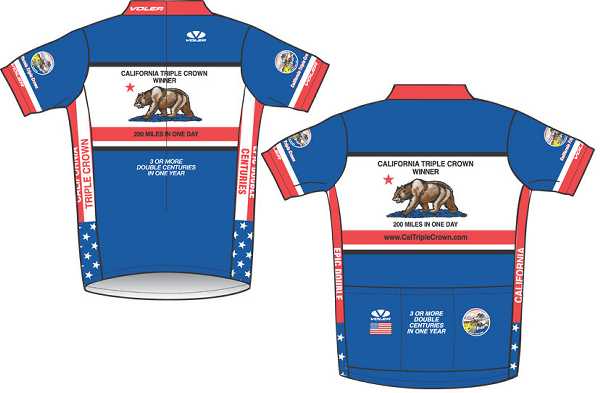 Features:

The Blue in this Jersey is a Brilliant Reflex Blue which is darker and deeper than the graphic shows. The Red Trim is a Brilliant Red. This graphic doesn't do it justice -- it has to be seen to be believed!!






The Red, White, and Blue color combo is really really nice.
California Triple Crown logo in 5 Brilliant Colors is sublimated on each sleeve






"3 Or More Double Centuries In One Year" on the Front and Back Pocket



"California Triple Crown" on the Right Side
"Epic Double Centuries" on the Left Side
As the photo below shows, this Jersey will help you really fly up those hills!!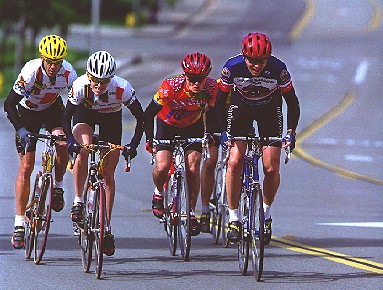 Photo Courtesy of L.A. Times
Long hidden 19" zipper
This Voler Jersey option is fully sublimated and will not be customized with the rides that you finished but will be a Jersey you will feel proud to wear for years to come
Club Jersey sizing for a Relaxed Fit (see below)
This California Triple Crown Voler Jersey will look GREAT on you!!
This design does not include the year on it ... so you can order it if you ever completed the California Triple Crown. For instance, if you completed the Triple Crown in 1997 but not in 1998 or 1999, you can still order this Jersey. Of course, we expect and want to see you on the Double Century circuit again in the future ... in your Voler Jersey!!
Available if you ever completed the California Triple Crown in any year
Manufactured by VOLER Team Apparel
Price: $59
Orders will be filled on a first come, first served basis. Check Inventory
Order It Now!! These Jerseys are sized the same as in past years. Some cyclists have found them to be snug.
In addition, if you like Chocolate Chip Cookies as much as I do, you may find that these Jerseys are fitting a little tighter than past years. :)
Also, if you want to wear any layers under your Jersey, you might want to consider one size larger than you think you might need.


| | | | | | |
| --- | --- | --- | --- | --- | --- |
| Sizing Chart for VOLER Jerseys | S | M | L | XL | 2XL |
| Chest | 35-37 | 38-40 | 40-42 | 42-44 | 44-46 |
| Waist | 29-31 | 32-34 | 35-37 | 38-41 | 42-45 |

[ Home | Products Table of Contents | Last Product | Next Product ]