1998 Race Across America Start Line Photos by Chuck Bramwell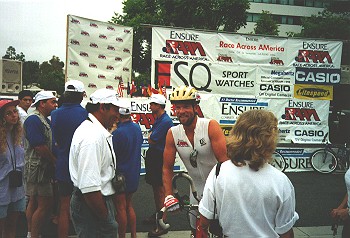 Steve Born in his White Skin Suit is checking in with John Marino, one of the Three Founding Fathers of the Race Across America.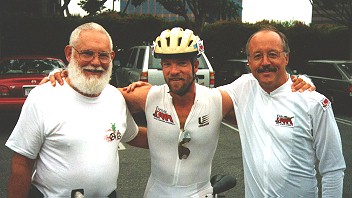 Lee Mitchell on the Left is the Main Wizard of RAAM Crews. This year Lee is the crew chief for Rick Anderson on the Right. Steve Born in the center is a Veteran of four RAAMs!!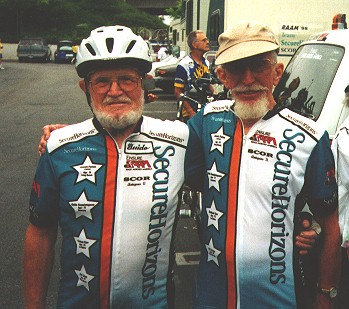 In less than one hour, these two young fellas are Racing Across America!! Team Secure Horizons / SCOR is made up of four avid Cyclists each over 70 years old!!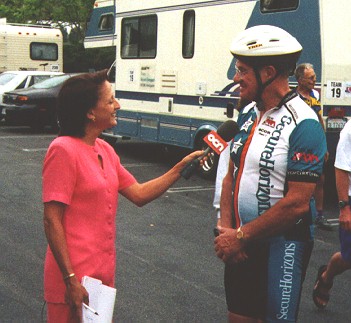 There were a lot more TV Interviews happening this year. These over 70 Year Old Cyclists are a major inspiration to all of us!!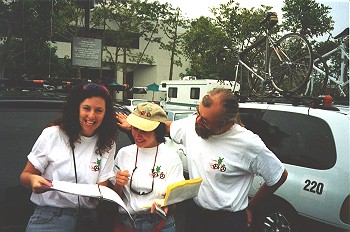 Three Crew Members for Team Amoeba, Rick Anderson's Team, are hurriedly trying to find critical info in the Route Book. If John Hughes doesn't know where it is, no humanoid on this planet surface could find it!! The Route consists of 1,292 Reference Points over 2,906 Miles from Irvine, California to Savannah, Georgia. Simple, right?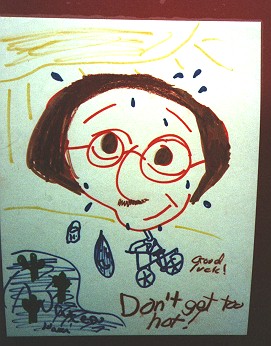 This very cool drawing was on Lee Mitchell's BIKE VAN Vehicle. Looks like Rick Anderson's kids have some definite art talent!!
The message says it all.

1998 Race Across America Photos of Michael Shermer