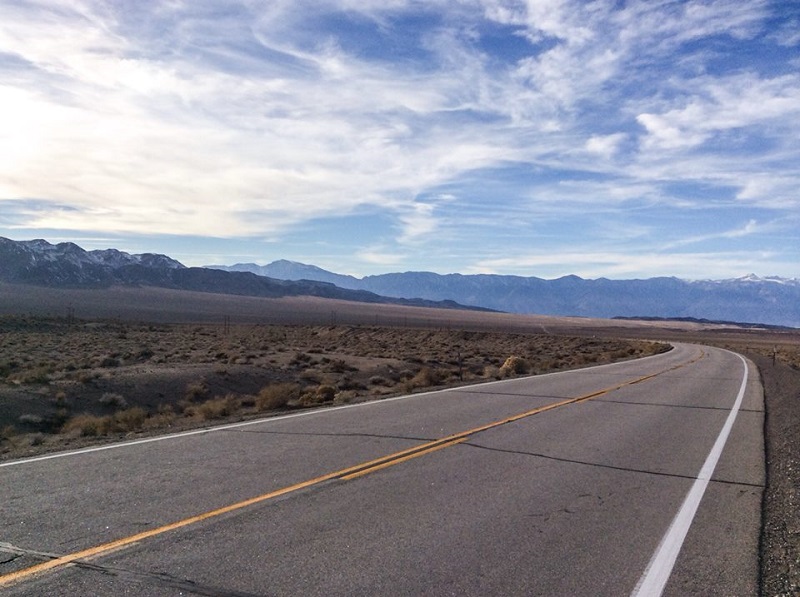 Hugh Murphy, Kermit Ganier, and a team of their friends are planning to host a new Southern Inyo Double Century for 2015. Above is one of his breathtakingly beautiful photos which he has posted on his web site at

http://www.inyoultra.com

"The Southern Inyo Double is a beautiful course with many miles that resemble Death Valley. All riding will be on well-maintained bicycle friendly state and county highways and byways. The course sets between Mount Whitney and Death Valley National Park. The scenic beauty is second to none. The film and automobile industry spend millions of dollars every year filming commercials and movies on these roads. You will be riding between the Sierra, the Inyo's and Coso Range. You will ride around the Owens Dry Lake (Badwater's Mother) past places like Dirty Socks, Keeler, the Alabama Hills the Olancha Sand Dunes. This area hasn't changed in the last 150 years, other than well paved roads. It is the wild west as it was."

The Southern Inyo Double is an out and back followed by a loop course starting in Lone Pine with 199.2 miles and about 8,078 Feet of Climbing according to http://ridewithgps.com/routes/3973563 Please know that there may be strong winds on this course making it extremely difficult since there is nothing to shield cyclists from the wind … just like in Death Valley. This ride has extremely long climbs which can make this a very difficult Double especially if it is coupled with the possible strong winds. We expect great weather but this ride covers a lot of remote terrain. Everyone should be prepared for any kind of weather at any time.

Hugh and Kermit Ganier will be staging a test ride on April 5, 2014. Anyone interested in riding the test ride or just intrigued by the challenge should contact Hugh by emailing him at inyoultra@gmail.com or calling or texting him at (760) 264-3370. Since this is a Test Ride to test the Route as well as the Support and since there will be personal support provided, California Triple Crown credit will not be given. There is a $30 Entry Fee for this Test Ride. To register please send an email to Hugh Murphy at InyoUltra@Gmail.com include your Name, Mailing Address, Phone Number, and Emergency Contact, Emergency Contact Phone Number, the number you can be contacted at during the event. Then make a check payable to Hugh Murphy and mail it to Hugh Murphy--PO Box 87--Cartago, Ca 93549. When Hugh receives your check, he will send you an email confirmation.

Anyone riding the test ride will be assured priority registration for the 2015 edition. The 2015 edition will only offer 75 spots. If you wish to be part of this event in 2015, it is important that you ride and finish this test ride. It is the only way to be assured you will have a spot in 2015.

According to http://www.weather.com/weather/wxclimatology/monthly/graph/USCA0630 , the average temperature in Lone Pine in April is 42-74 so hopefully, the weather will be good for this Test Ride.

April 5 is one week before the Mulholland Double and the Hemet D.C. Hugh does not want to negatively impact any other Double in the California Triple Crown with this Test Ride or with this Double in 2015 or beyond. If you had previously planned on riding the Mulholland Double or the Hemet D.C., do not sign up for this Test Ride unless you are able to ride the Test Ride on 4/05/14 and the Mulholland Double or Hemet D.C. on 4/12/14 as you had previously planned.

Hugh is no stranger to Double Centuries as shown by his California Triple Crown History Report at

http://www.caltriplecrown.org/DoublesbyName/RiderHistoryReport.asp?RiderID=3800

He has ridden 32 Double Centuries but more importantly he is a real pioneer in organizing Double Centuries in California. He is the original designer and organizer of the Death Valley Spring Double, the Death Valley Fall Double, the Solvang Spring Double, and the Eastern Sierra Double. He was inducted into the California Triple Crown Hall of Fame in 2000 after completing 32 Doubles and organizing 31 Double Centuries in California.

From 1994 to 2000, the California Triple Crown wouldn't have survived without Hugh making hundreds of Custom Jerseys, T-Shirts, and Plaques in his garage. He spent endless hours building these custom items which hundreds of cyclists throughout California and the Western United States still value greatly nearly 20 years later.

Hugh asked me to lead the Test Ride on the road and I have told him that I would do so. It's the least I can do for all of the help he gave me and the California Triple Crown way back when.

Hugh loves Lone Pine and the surrounding area where he has lived for the past 14 years now. He looks forward to receiving some constructive feedback from the test ride cyclists.

Kermit Ganier is also no stranger to Double Centuries as shown by his California Triple Crown History Report at

http://www.caltriplecrown.org/DoublesbyName/RiderHistoryReport.asp?RiderID=1793

and note that he has helped with over 42 Double Centuries!! Kermit is the President of the Los Angeles Wheelmen and the Ride Director of the Grand Tour and the Dead of Winter Double. Kermit was inducted into the California Triple Crown Hall of Fame in 2001 after completing 57 Doubles.

Hugh and Kermit have therefore ridden a combined total of over 89 Doubles and have volunteered on or organized over 96 Doubles!! This is mighty impressive.

A cycling computer is necessary since it will be a new route. An altimeter would be really nice to have so we can get some idea of the Feet of Climbing on this new course. The course is estimated to have 199.2 Miles and 8,078 Feet of Climbing according to

http://ridewithgps.com/routes/3973563

A camera would be nice to photograph the good parts as well as the bad parts of the course. As always, you must wear your helmet and carry two water bottles. A large Camelbak would be highly recommended since riders may get well spread out later in the ride. We would like to see a mix of fast and slow riders on this test ride so we can get feedback from different perspectives.

Riders should bring their own calories. InyoUltra will supply water, ice, and sodas. Riders should bring a lunch in a bag which InyoUltra will transport to the Lunch stop. Riders may also have their lights transported to a later Rest Stop. Everyone should bring lights. We hope that some riders will finish before dark but the course will be open until everyone is finished.

Hugh recommends you stay at the Dow Villa Motel at http://www.dowvillamotel.com

Start time will be 6:15am. There will be no early or late starts.
On April 5, 2014 in Lone Pine, Civil Twilight will begin at 6:06am, Sunrise at 6:32am, Sunset at 7:18pm, and Civil Twilight will end at 7:44pm.

Stay tuned to www.InyoUltra.com for all of the latest details including the Check-In Time and Location as well as the Start and Finish location.

If you are on Facebook, check out https://www.facebook.com/groups/InyoUltraCyclists/

After the ride, please send to Hugh at inyoultra@gmail.com and Chuck at cbrams@caltriplecrown.com :
Your feedback about the good and the bad about the route and ride experience
Your mileage and altimeter readings
Your times at the proposed Rest Stops and Finish
Any photos you might like to share

Chuck will build a web page with all of the rider comments.

The course route looks really interesting. Hugh has already done an impressive amount of work on this ride, so this new Double Century could be really a great one!!

Please let me know of any questions or concerns.

All my best to you,

Chuck Bramwell
California Triple Crown Guy
http://www.CalTripleCrown.com
"There is nothing a good day of cycling won't cure."