The California Triple Crown family lost a great leader and friend to cyclists in California when Pam Leven passed away on Thursday, December 19, 2013.



Let's celebrate Pamís life!!


Iíve added a Memorial for Pam with some great photos at

http://caltriplecrown.blogspot.com/2013/12/pam-leven-you-will-be-missed.html

This is a place where people who loved Pam may feel free to write a memory they have of her, a story, or to say goodbye to a good friend. Please share your thoughts by clicking on the "Comments" at the bottom of that page. You need not be a cyclist to share a memory there. Please send photos of Pam that we can share to Chuck Bramwell at and to Roland Hoffman at .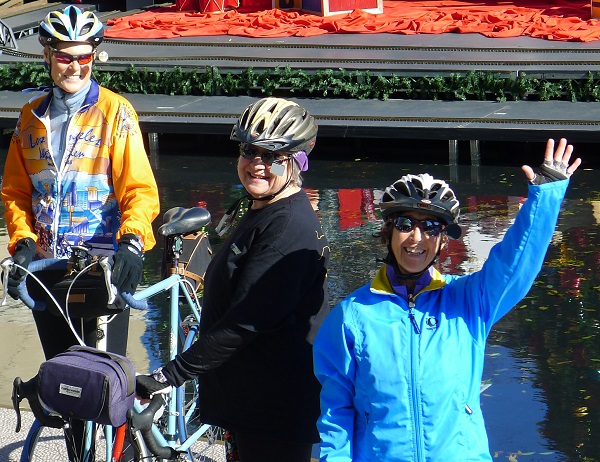 Cathy Shellhase, Susie Ferren, and Pam Leven on a LAW Ride



On Wednesday, December 18, Roland wrote: "For those that may not know, LA Wheelmen's 2013 / 2014 President, Pam Leven was involved in a cycling incident last Sunday, December 15th, while riding the LA Wheelmen's "Newcomer's Ride" in the West LA / Brentwood area.

I have just spoke with Kermit regarding the incident and Pam's current condition. As the group was making a safe and routine left turn from Sunset Blvd., she got tangled up with another experienced cyclist that was next to her within the group. They both went down onto the pavement. While the experienced rider has escaped serious injury, Pam is currently at UCLA Medical Center in critical condition with severe head trauma.

Let's ALL hold our virtual hands in unity . . . as we send our healing prayers together in hopes our Lord brings his healing hand down onto Pam as we pray with all of our might towards Pam's most challenging moments of her life.

Lord . . . . hear our prayers."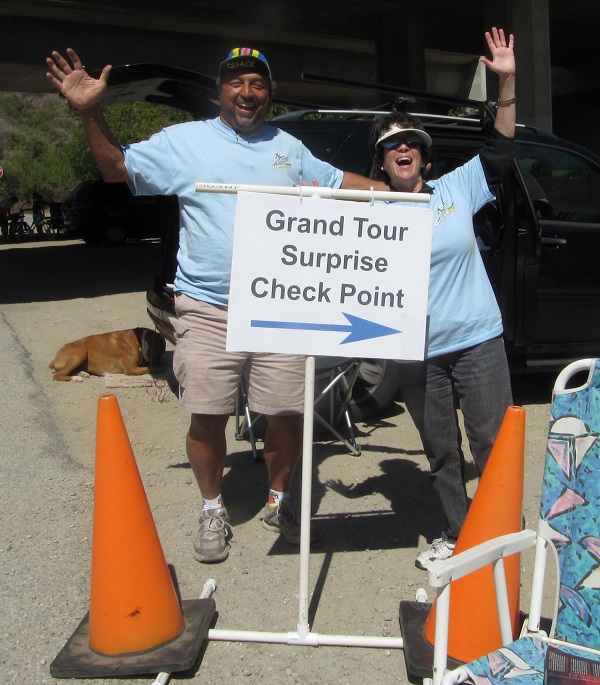 Kermit Ganier with Pam Leven on the Grand Tour



Pam was a HUGE supporter and organizer of the Los Angeles Wheelmen's Grand Tour. Her California Triple Crown History Report can be found HERE.

On Thursday, December 19, Roland Hoffman wrote: "Calling our California Triple Crown "family" from near and far, we grasp our virtual hands in unity as the President of the LA Wheelmen Bicycle Club, Pam Leven has left us in passing at 3:00pm today at UCLA Medical Center in Westwood, CA.

She was a dynamic leader with the LA Wheelmen as she would head and participated in many of the club's events, including the original double century in the country, the Grand Tour. She loved to be with her cycling "family" within the club, and throughout the cycling community.

Pam is survived by her loving and supporting husband, Bob Geddes.

As we hold our virtual hands together, we bow our heads in unity as we bless Pam - as she heads into the heavens where our Lord will await her arrival to praise her highly for her dedication, kindness, enthusiasm, and her shear attention to needs and support for us all here on Earth. Her mission on Earth is now complete.

May peace be with you Pam, as you have been and continue to be loved by everyone that had the great pleasure of growing with you, learning with you, working with you, riding with you, and especially knowing you. May the tears from our eyes cleanse you during your "final ride" into the heavens as we praise your name from our hearts and soul . . . with tailwinds - always.

RIP Pam

~Roland Hoffman
California Triple Crown History"

In memory of a great lady,